In the early 1940s, LeRoy and Nettie Seely started a mint farm in Fargher Lake in North Clark County. 
Nearly 80 years and four generations later, the farm is producing the peppermint for brands such as Tillamook, Salt and Straw and more recently, Burgerville.
"Everything we do is handmade and clean ingredients," Mike Seely, third generation and current operator of Seely Mints said. "We're non-GMO project verified and fair trade certified. When we got to Burgervillle, that's the kind of thing they look for. They have four or five other (producers), all local, and it brings money back to the local economy."
Mike Seely grew up in Fargher Lake working on his grandfather's farm. 
"(Growing up on the farm) was a blast because you got to drive things at a very young age," he said. "I rode with my dad on his Allis-Chalmers D-15 tractor. From 2 years old I sat on that toolbox and rode on that thing."
While growing up on the farm was an "excuse to skip school" and gave Seely the opportunity to drive vehicles at a young age, it wasn't easy work. 
"As a 6-year-old I can remember being up in the middle of the night during a hot summer and it was 21 steps to move that irrigation pipe," he said. "We were out moving pipe every four hours during the summer, and that was in the middle of the night."
Mike met his wife, Candy, at Battle Ground High School and continued to work on the farm throughout his youth. He even bought a plot of land in Salmon Creek near the Washington State University campus. 
"I raised enough mint to get me through college," he said. "I had about 12 acres of peppermint."
He later graduated from Washington State University with a master's degree in business. Candy graduated from Portland State University with a degree in electrical engineering. Together, they run the 650-acre peppermint and spearmint farm in Clatskanie, Oregon.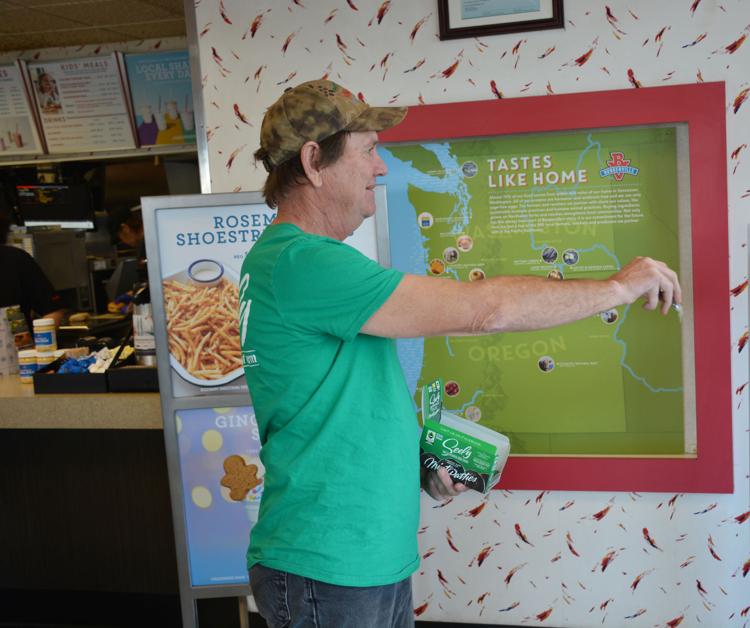 "Not much has changed over the years when it comes to the way we grow and harvest mint," Seely states on their website. "Although some of the more labor-intensive steps are now mechanized, we continue to focus on quality instead of quantity, taking only one harvest off the mint each year."
Quality over quantity is the main philosophy at Seely Mint as the company makes by hand each of its tasty treats, such as peppermint patties, spearmint candy canes and peppermint bark. "One pint of our peppermint oil can flavor over 2,500 pounds of chocolate (about 41,200 patties)," he said, mentioning that each patty is crafted by hand on the farm with a chocolate funnel that consists of 70 percent dark chocolate and peppermint filling. "Once people try my product, they never go back to my competition."
Along with handcrafting each treat, Seely said the secret is in using real peppermint oil instead of synthetic products. 
"Oregon in now the No. 2 producer (of peppermint) and overall there's only about 50,000 acres of peppermint left," he said.
Toothpaste brands and large mint manufacturers are all moving to synthetic peppermint because it's cheaper, he said. 
Seely said the soil quality, harvest time and weather conditions all contribute to whether the peppermint turns out perfect. 
"We harvested the traditional way, which is at 3 to 5 percent volume where it has the optimal flavor profile," he said.
If the mint is harvested with menthol oils higher than 7 percent, the mint turns out bitter, he said. If it's less than 2 percent, there's not much flavor. This is the only way to get a good flavor and, according to Seely, synthetic peppermint just doesn't taste the same. 
While big brand companies are using synthetic mint, local companies such as Tillamook, Umpqua and Burgerville are sticking to the traditional flavor profile of Seely's mint. Tillamook's Mint Chip ice cream uses Seely peppermint oil, and Heathen Brewing heads down to the farm to hand pick some peppermint for its mint stout. 
"Burgerville is selling about 6,400 of our milkshakes a week," Seely said, mentioning how he is behind on purchase orders from all over because of how popular his product is. "I wasn't expecting this much to be sold (by Burgerville)."
Along with making tasty food, Seely said the peppermint oil can be used for many other applications, such as rubbing it on your feet after a long day standing, a diffuser at night to clear your sinuses and even a tick repellent for dogs. Seely said he knows people who put peppermint on their pets before a hike to repel ticks. 
"My favorite part about it (owning a mint farm) is, just like with my parents, you get to interact with your family. I'm interacting with my kids and they're working with me," he said. "The really fun part is building a legacy."