By summertime, Battle Ground residents should have a place to store their recreational vehicles and other valuables at Principal RV and Self Storage on the southwest corner of SW Scotton Way and State Route 503 intersection, an area known as Scotton Landing. This project is a development of Principal Properties. 
This 65,175-square-foot facility will feature six buildings and 646 units, most of which will include covered loading, automatic garage door openers, indoor heating and LED lighting. The addition of multiple cameras throughout the property should provide a higher level of security for people and their goods.
Principal Properties also developed the Mill Creek Town Center and the Alder Pointe Apartments. Principal Properties Manager T.J. Fontenette believes there is a need for a state-of-the-art storage facility in this area.
"Battle Ground is a growing, vibrant community. With that, goods and services are part of the equation," he said. "When you're commuting several miles away for these services, it's not only the inconvenience, it's dollars and the economic vitality that leaves the community.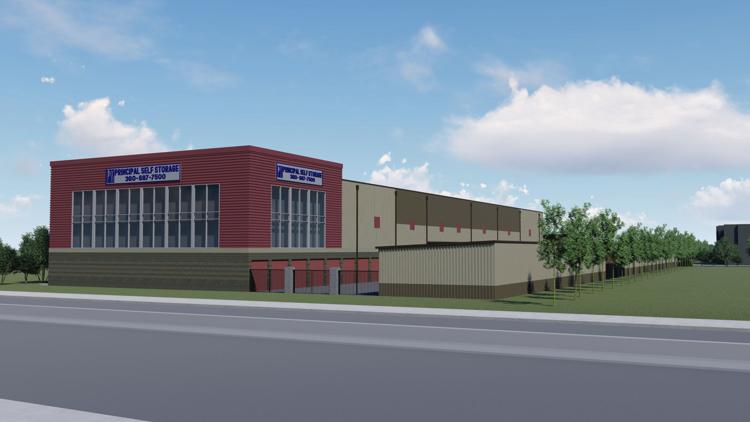 "Ever since we developed the Mill Creek Town Center, those dollars are staying in the community and they get recycled in the form of jobs and better taxes," Fontenette added. "All of that becomes part of what we think is a more healthy community. We're just trying to do our part."
Jiffy Lube coming this spring 
Another project at Scotton Landing will begin in springtime. Principal Properties recently sold a 23,235-square-foot pad to Jiffy Lube to build a new 4,400-square-foot full-service automotive center.
Elliott Smith of TerraForm Companies could not provide official details on the design of the new Jiffy Lube facility. He said it should have four auto bays, a comfortable customer waiting area and offer quick service to residents of Battle Ground and the surrounding area.
Fontenette hopes Principal Properties continues to attract services that bring more vitality to the community along its 22 acres of property at Scotton Landing.
"Our objective has always been not to just build as quickly as possible. We want to build the right product at the right time," he said. "We want to make sure that it's quality so it will last. That's been our motto throughout our development."