Not all students attending Clark College in Vancouver sit in a classroom for the entire day. 
Some spend the day working on vehicles of all shapes and sizes in the automotive shop on the campus. From brand new Honda Civics and several Toyota Prius models to 2016 Toyota Tacomas, students in the Clark College Automotive Technologies Program get hands-on experience in auto repair. 
"All of our programs are meant for career-minded students," Automotive Technologies Department head and instructor Tonia Haney said. "Students have to have a job before they get started, and they have to have a job in the automotive industry. We have a recruiter and he helps align a student to a dealership that sponsors our program."
All of the cars the students work on are donated from the manufacturers through programs such as Honda's Professional Automotive Career Training (PACT) program and Toyota's Technician & Education Network (T-TEN) program.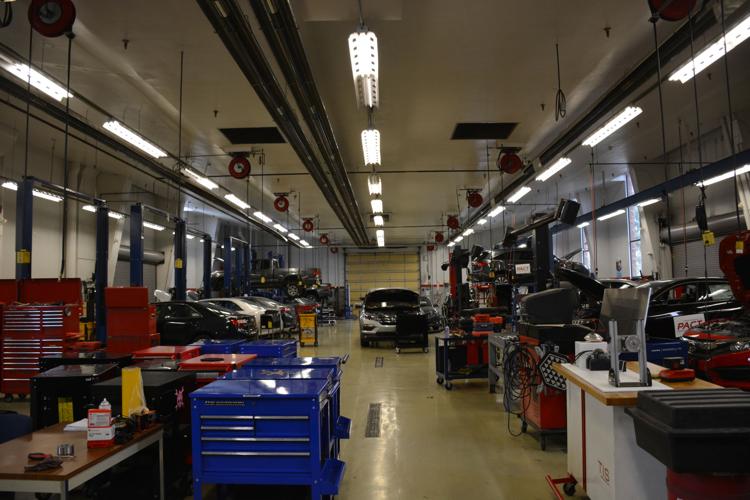 "They need people to know how to work on their cars," Haney said. "They donate all these vehicles to us, so I get to experiment and play with the newest level of technology so the kids can see the problems before they get out in the real world."
Haney said the program focuses mostly on newer models of vehicles because when working at a dealership, students are more likely to see newer cars. As the instructor, Haney creates a problem with a vehicle that students then have to diagnose and fix. 
"I'll go through and identify what the problem should be and what I want them to learn. Then, I install faults that create the problems," she said. 
While Haney can create small electrical issues in a vehicle, students in the program also work together to replace entire transmissions and other non-electrical "repair" work on many different engines and transmissions. 
Along with requiring students in the program to have a job while they go to school, Haney said the program graduates anywhere between 15 to 30 students a year and has a 100 percent placement rate after graduation. 
"100 percent of my graduates are employed," she said. "They have to have a job before they start, and if they lose their job, then I kick them out (of the program)."
Chris Rutledge, a recent graduate, took advantage of the program's job requirement and graduated after two years completely debt-free.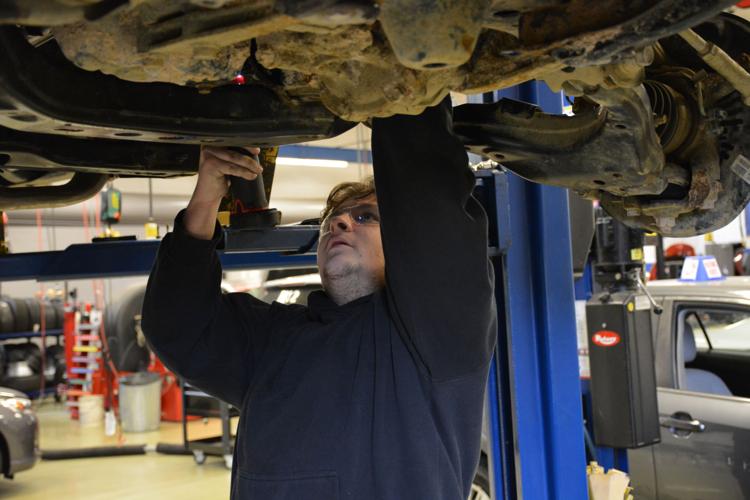 "I actually started this program with zero automotive knowledge whatsoever," Rutledge said. "The program is very informational and they have phenomenal teachers that know way too much for their own good."
Now Rutledge is employed at Dick Hannah Chrylser in Vancouver, where he worked as a technician while he was a student at the program. 
"What I kind of learned is you get out what you put into it, kind of like most things in life," Rutledge said. "So if you come here every day and you work really hard you're going to leave extremely successful, and you get paid the whole time during the program. And then afterwards if they like you, which there's no reason they shouldn't, they hire you on and you kind of just keep working for them."
Rutledge said that along with being able to work while going to school, he really appreciated all of the hands-on experience he received while in the program. 
"It's not just applicational. You actually get your hands on the car, you get dirty," he said. "We pull engines and rebuild transmissions so we learn all the cool stuff."
According to Haney, students in the program come to school three days a week and work for another three days a week. Many of the students in the program work with local dealerships, such as Dick Hannah. 
Gary Schuler, the corporate director of fixed operations at Dick Hannah, said the program took about three years to get started and go through the accreditation process at Clark College. Now in its fifth year, Schuler said the program is "wonderful" for students who want to get into the automotive industry. 
"Kids that come in through the program are better trained than those that just work and learn on the job," Schuler said. "When they come out (of the program) I bet you they're making $10 more an hour than the kids that didn't go to school, because we pay them as they get better and better."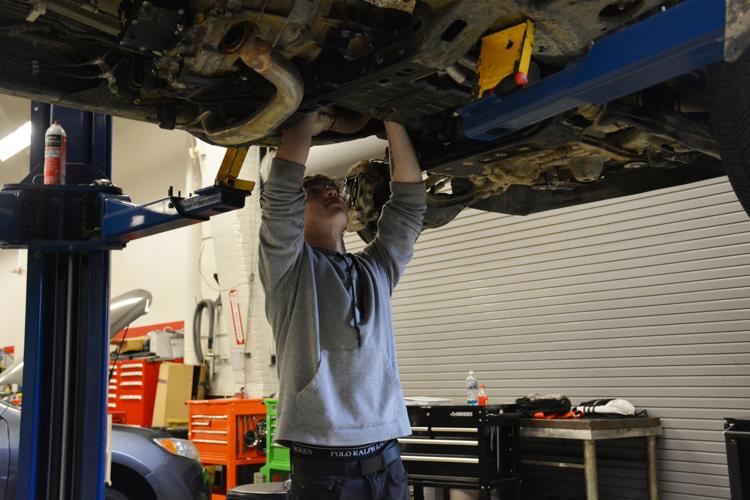 As the person who oversees the entire parts and services department of a large regional company such as Dick Hannah, Schuler said part of his job is to get the best technicians they can for the job. The program at Clark College helps accomplish that. 
"We decided that the best thing was to grow our own," he said. "We plan on this being a 20-year program for us and will continue to staff and source with students from the program."
As well as working with Clark College, Schuler and Dick Hannah hope to get a program up-and-running at Battle Ground High School and other surrounding schools in the coming years. 
"We're going to try and get Battle Ground set up as a feeder school," he said. "It might take a few years, but we're going to get it done."
Those interested in the Clark College Automotive Program are invited to visit the shop on campus for an open house from 6 to 8 p.m. on Wednesday, March 18. Haney and other instructors plan to have visitors from different dealerships in the area speak at the event while showing off the "state-of-the-art" facility that exists on the campus. The open house, as well as parking, is free and open to the public. More information about the open house and the program can be found at clark.edu/academics/programs/advanced-manufacturing-and-me
chanical/automotive/.