With temperatures dropping below freezing a couple of times over the past couple of weeks, the Washington State Department of Transportation (WSDOT) is gearing up for the winter months and offering tips to drivers on how to stay safe. 
In northern Washington, crews have already seen snow and ice on the roads late in fall. The department as a whole begins preparing for possible snowstorms and icy roadways by hiring temporary staff and stocking up on deicer and salt. However, with the COVID-19 pandemic created budget cuts across the department, and 2020 may look a little different out on the roads. 
"Because of the pandemic our response time may not be at the level folks are used to," WSDOT Communications Consultant Kathyrn Garcia-Stackpole said. "Our priority continues to be the main roads with the most travel to make best use or our resources and keep folks safe." 
Garcia-Stackpole explained that most of the budget decrease will affect how many temporary staff the department can hire to run trucks, plows and de-icing campaigns. With less staff to run the equipment, resources will need to be shifted to the most pressing issues and busiest roads. 
Despite budget decreases across the state, Garcia-Stackpole explained that road crews will still do everything they can to keep busy roads safe for driving. However, smaller roads may not be maintained as heavily as they have in years past. Main highways and intersections will continue to be de-iced and plowed as needed during the winter months. 
With the WSDOT focusing their resources as best as possible, Garcia-Stackpole emphasised the importance of drivers being prepared before they hit the road. "The most important thing to remember is to be prepared...if we have a big storm coming in, adjust when you leave or maybe just stay home," she said. "You have to be prepared for that possibility you might get stuck somewhere."
Some of the ways the public can prepare for getting stuck include checking tire pressure, ensuring you have a full tank of gas before leaving and having an emergency preparedness kit in your car. According to the DOT, a preparedness kit should have everything from a cell phone charger and warm clothes to flares and extra food in order to be sufficient. 
Studded tires are allowed in Washington State from Nov. 1 to March 31. However, according to the WSDOT, studded tires cause an estimated $20-29 million in damage each year, and the department encourages drivers to use chains to avoid damage to roads. Garcia-Stackpole said those using chains should always try the chains on prior to Winter to make sure they fit. Snow and traction tires are allowed in the state year-round and can be a good investment for drivers in rural areas or those that plan to travel often during the Winter and avoid the possible $500 ticket for failing to obey tire chain law. The WSDOT has informative videos on how to install tire chains, prepare for winter roads and driving for conditions online at wsdot.com/winter/video.htm
Maintenance check ups on your vehicle should also be performed before winter storms hit the area. Ensure your car's heating and defrosting is working properly, make sure wipers clear fields of view and all parts of the internal engine are working properly.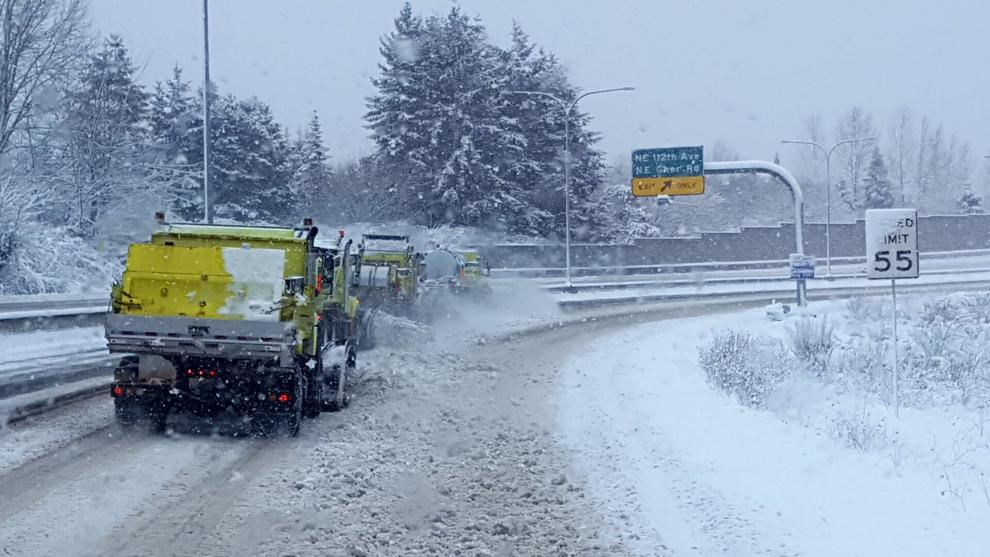 Along with getting your car prepared, Garcia-Stackpole said drivers should pay attention to the WSDOT Twitter feed and download the agency's app to stay informed on weather, closures and road status. "The app really is a wonderful resource for drivers to stay safe and know about road conditions before they set out," she said. 
Drivers should also drive for the condition they prepare to be in. If roads are snowy and icy, drivers should give themselves extra time and drive slower and leave more space than usual between vehicles for braking. The WSDOT also reminds drivers that snowplow drivers have an extremely limited field of vision and drivers should stay back 15 car lengths until it is safe to pass or the plow moves off the road. Should you find yourself stuck in the storm, Garcia-Stackpole said drivers should always turn on hazard lights, contact emergency services and stay in your car.